Well this is my art!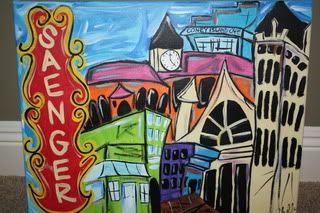 Last night a group of girls and I went to a painting class at Paasches' in Hattiesburg. It is a little art and pottery studio where friends can go to get creative and have a good time. Definitely the type of activity that is right up my ally. I meant to bring my camera so I could take photos of my canvas throughout the process but I totally forgot.
We all started with a blank 16x20 canvas and we followed along with Jeffery as he guided us through painting a scene from Downtown Hattiesburg. The canvas includes the Saenger Theater, Southbound Cafe building, Bay St. Pres Church, The train depot, and the famous Coney Island Cafe. I love love love it. It is so funky and colorful and I will be showcasing it on my wall.
It has also inspired me to think about doing one similar to this of the Southern Miss Campus. Thanks to Heather Ezell for planning and organizing the outing, I always have a good time when I get together with you girls.