Yes, Jersery Shore. You can't escape it, it is everywhere! I don't watch religiously, but I do admit when I catch a re-run I tune in. Nothing liking watching a bunch of twenty somethings "creep" at the club, show off their abs, spill food, gym, tan, and laundry.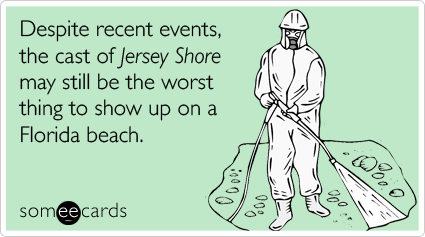 And apparently my Jersey Shore nickname is...C Pop. Wow.
It rained again today practically all day and really put a damper on a project I have been working on. My friend Pauly D described it perfectly when he said, "
Can't stand this weather, ya can't get tanned in this weather, ya can't creep in this weather, you can't do anything… girls don't come out in this weather, they stay in the house." This girl my definitely didn't go out in the weather today.
Don't forget to GTL people!