Oreo Stuffed Brownies. Yes, that just happened.
In fact these brownies made Matt declare, "Dang baby, you are the brownie queen."
I take that as a serious compliment, because Matt is a brownie lover of the biggest kind. I am not going to take all of the credit, Jenny at
Picky Palate
featured this recipe on her blog, and I stumbled upon it looking for an update to the regular ole' brownies I had been making. I must give you fair warning. These are NOT healthy (most good things aren't).
Grab a napkin cause your gonna need it.
Oreos (Double Stuff, is there any other kind?) and Brownie Mix
Prepare brownie mix as directed in a large bowl, do not pour into baking dish.
Dip the Oreo using a spoon into your brownie batter, make sure that the cookie gets nice and coated. Go ahead and use your hands to, don't be afraid to get dirty. Trust me, it's worth it.
Once you have the Oreo sufficiently coated in batter...
Place each coated Oreo into a well greased muffin pan.
Cook for approx 15 or until you can tell that your brownies are done. As soon as you pull them out of the oven, use a knife to remove your slice of heaven cookie. Let cool just a little bit.
Serve!
He was happy, and that is the way I like it.
I have officially been banned from making "regular" brownies ever again.
Do you still have that napkin? Now would be a good time to wipe up the drool.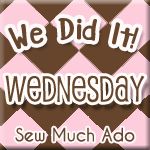 Check out the great blog post featuring a ton of other great bloggers!