Mississippi Pinkeye Purple Hull Peas to be exact. Apparently, I like them. I had them for the first time ever yesterday and I would say I will most certainly be adding them to the rotation.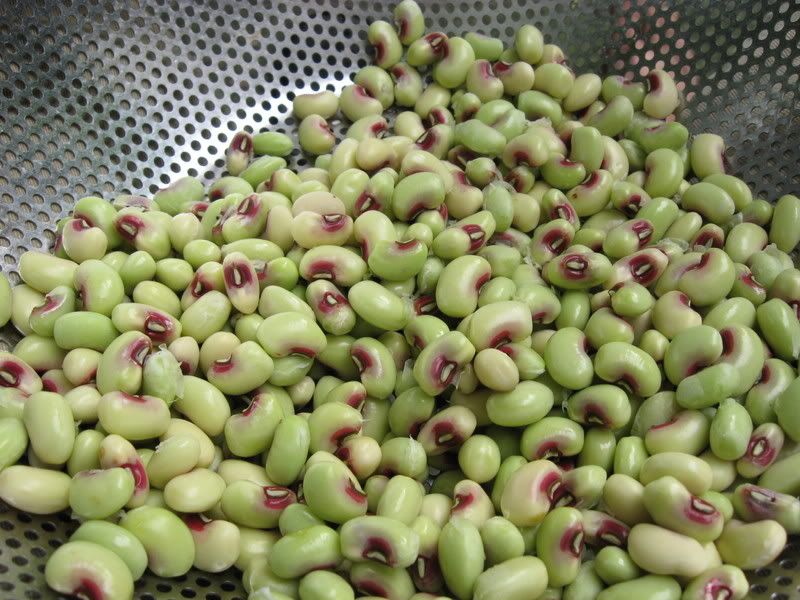 I have to admit, I am a bit of a vegetable snob. I am very selective on the vegetables that will try, much less eat. So much so, that I will only eat 3 of the 7 things growing in my own garden. I just have imagined in my head what certain vegetables taste like and I pretty much talk myself out of ever trying them. It is easy to just stick with what you know (like a lot of things in life).
Over the last six months I have made a valiant effort at a healthier lifestyle, which means introducing new foods to my diet, vegetable included. Since that time I have added these previous disliked veggies to my diet...green beans, carrots, butternut squash, sweet potatoes, asparagus, and after yesterday...Mississippi Pinkeye Purple Hull Peas.
They were delish. My friend Heather made them for lunch. They started in the pan with salt pork sizzling away (anything with pork esp in the bacon form has to be good), and ended with a steaming pot of delicious smelling peas. With the aroma wafting through the air and teasing my nostrils I decided to try them, and it was probably the best decision that I made this entire week. They were served with a slice of a fresh juicy garden tomato (a little slice of heaven) and I am pretty sure that my belly thanked me when I cleaned my plate.
I'll tell ya how we made 'em.
1 large pot over medium to high heat, several pieces of cut of salt pork. Let the salt pork do its thing until it starts to sizzle and smell like your cooking pork. Add your peas and cover with water. Sprinkle in onion powder, garlic salt, and pepper (IMO the more of this stuff the better). Bring to a boil and reduce heat so the water is rolling at a gentle rate. Let cook for 30-35 min, make sure you stir occasionally and keep adding water as needed. And if you like tomatos, I would suggest slicing one up to eat with your peas.
Now, go take a pea! :)