Blog Challenge Day 4:
Favorite Book
I am going to take the liberty to change Favorite Book into Favorite Book Series. You may call me foolish and childish, but I am going to say that hands down my favorite book series is the saga of Anne Shirley in Anne of Green Gables by L.M. Montgomery.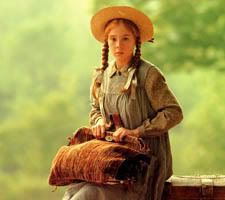 The series introduces you to Anne Shirley and orphan who is taken in by an other twosome made up of a brother, Matthew Cuthbert and a sister, Marilla Cuthbert. It follows all of her missteps (of which there are plenty, friendships, heartbreaks, and first loves (oh dear sweet Gilbert). You learn to love Anne through her youth, into adulthood, married life, and eventually parenthood. When you start a book, you can't put it down. Just know that there are eight books in the series, so by the time you finish the books, you have a mini library of all the Anne.
Miss Shirley spends her life on Prince Edward Island, Canada. I am so pleased to announce that PEI is a real place, and does in fact have a town mirrored after Avonlea complete with Green Gables that all true Anne Fans can visit. I would love to go to PEI one day, and since it is a luxury destination for golfers as well, I might just be able to convince Matt to take me.
Unfortunately, yes I said unfortunately, most little girls these days are Twi-hards, something that I don't quite understand. But when I have a little girl of my own I hope that when I introduce her to Anne, and the rest of the characters of Avonlea, that she finds them to be the same "kindred spirits" that I discovered so long ago. I find that no matter how old I get I still find the books just as interesting as I did when I first read it in 7th grade. My copies are torn, faded, and loved and they will continue to have a special place in my heart.
Whenever I hear of someone else being a Anne-fan, I know that we share something special...I am a sap deep down, and find that there are appropriate times to be corny and sentimental and this is one of them. I feel like everyone should have a book or series that takes them back to certain feelings and emotions, a book that they can create bonds over, Anne of Green Gables does just that.
Happy reading!