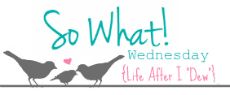 It has been a while, as in a LONG time, since I have linked up with Shannon from
Life After I Dew
in her So What Wednesday blog. I love reading her blog, the girl has a major case of the funnies and always tells it like it is. I wish I was a little bit braver when it came to speaking my mind, at least on my blog.
Today I am saying So What! if...
-I stress out about getting my grocery list together, but then manage to not cook but 1 or 2 of those meals. Sometimes Subway is so much easier.
-I didn't get emotional when I cleaned out all of Neil's clothes that he has outgrown. I just think of it as more room for more cute boy stuff!
-I took the baby to the liquor store to get a box, yes a box, of wine. I decided to go with Mrs. Dew's recommendation of Franzia House Crisp White.
-I occasionally throw a shirt or pair of pants into the dirty clothes even if they aren't dirty, but because I don't feel like putting them up.
-I am OCD about keeping the house picked up but my car looks like a crap bomb hit it.
-I pay a neighborhood kid $5 a week to come walk the dog for me. I like to think I am helping him develop good business skills.
-I only pin recipes on Pinterest. Should I vary my interests? Probably.
-I watch Gossip Girl. It is totally ridiculous now and I am not 16, but I still love it.
-I am fascinated with Vicki G's face on RHOOC...what did she do to it anyway? I can't quit starring.
-I am a blogger that seems to only be talking about her kid right now. He pretty much takes up all of my time so deal with it.
Speaking of...
This little guy loves to have a silly song sung to him. His favorite?
Head, Shoulders, Knees, and Toes. A classic!
And believe me I will sing it all day long if I can keep getting looks like this out of him.
When daddy sees how much fun it is he wants to sing with us.
Neil's favorite part is "toes".